University of Iowa – Carver-Hawkeye Arena
Iowa City, Iowa, USA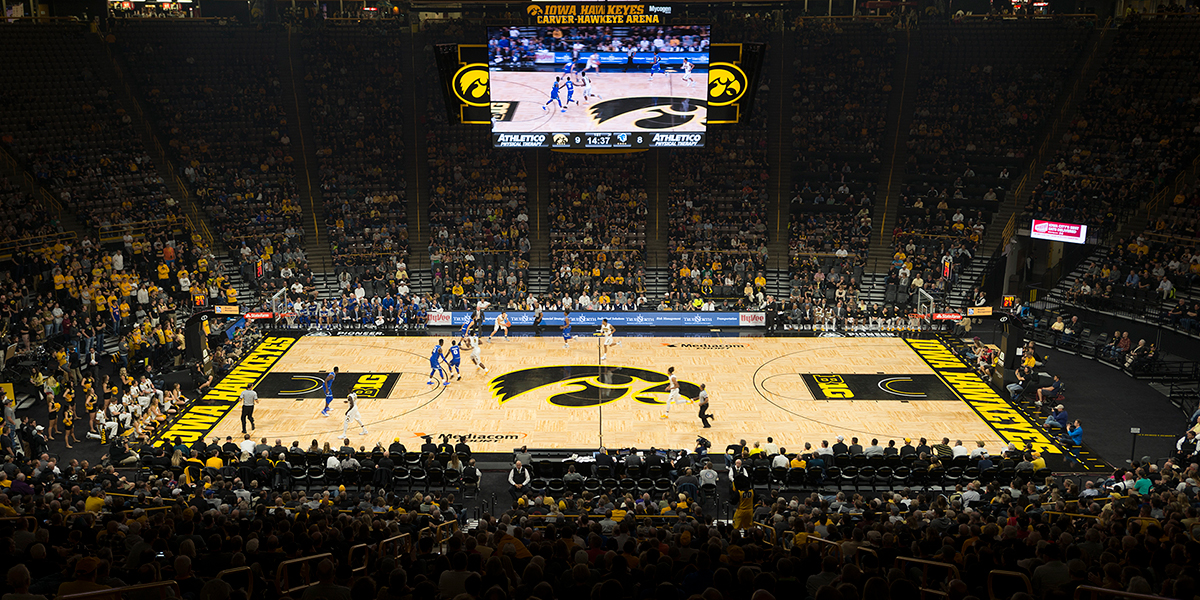 Hawkeyes Turn the Lights On with Energy Efficiency and Fan Engagement Using Musco
"Musco Lighting is the premier athletic facility lighting company in the world and we are fortunate to have them 'in our backyard' based in Iowa. The new LED lights provide Carver-Hawkeye Arena with a natural light setting that is not only more pleasing for fans experiencing our events, but energy efficient and cost-saving for our department. Additionally, we now have the ability to turn lights on/off instantaneously and program them as a part of the game presentation. The Musco team and LED lighting system enhances our overall Hawkeye fan experience while making our facility more energy efficient. We could not be more pleased with the end result."
— Damian Simcox
Assistant Athletic Director of Facilities
University of Iowa
The University of Iowa takes a major step towards maximizing its energy efficiency and enhancing the entertainment experience at Carver-Hawkeye Arena with the installation of a new LED lighting system.
Having opened its doors in 1983, Carver-Hawkeye Arena has become one of the elite venues in the Big Ten conference. The multi-purpose arena is not only the home of Iowa men's and women's basketball, but also wrestling, gymnastics and volleyball. Musco's LED system provided the energy efficiency and light quality needed at the venue, offering various additional features:
Enhanced Visibility – Customized optics focuses light onto the playing surface, preventing light from shining into the eyes of players and spectators
Efficient Controls – Provides instant on/off capabilities and dimming controls for the light output to be adjusted when full power of the system is not needed
Visual Experience – Superior light quality creates a stage-like atmosphere for spectators and eliminates the "flicker" effect for slow motion replay during television broadcasts
Special Effects – Interfaces with a DMX control board for special effects and can be sequenced with music
The system will reduce energy consumption at Carver-Hawkeye Arena by 55 percent compared to the prior lighting equipment when operated at full power, and will also eliminate maintenance costs with a 10-year parts and labor warranty.
Carver-Hawkeye Arena Photo Gallery